Understanding vehicle dynamics, and how it affects the performance & handling of your car can be a very challenging task.
Experienced Vehicle Dynamics Engineers at GSD RaceDyn are here to help, with a number of vehicle dynamics and aerodynamics consultancy services available in order to extract maximum performance and competitiveness from your car.
The services GSD RaceDyn offers encompass more than just vehicle dynamics - also including aerodynamics analysis, laptime simulation, and race strategy services. GSD RaceDyn even offer trackside support. What GSD RaceDyn can offer you is outlined in more detail below.
Vehicle Dynamics Analysis
Package 'A' - Vehicle Dynamics Analysis and Recommendations
Geometry and Kinematics Analysis and Settings
Braking Analysis
Ride Frequencies Analysis
Spring and Anti-Roll Bars Measurement
Tyre Spring Rate Analysis
Damping Analysis
Steady-State, Mid Corner Analysis
Roll Analysis
Stability Analysis
Steady-State, Corner Exit Phase Stability Analysis
Springs, Anti-Roll Bars and Dampers -  Design and Settings
Basic Bump Steer Assessment
12 Page Report, including Analysis Results and Recommendations
Further Vehicle Dynamics Analysis
(Assumes Package 'A' Completed)
Complete 3 Dimensional Steering Geometry Analysis
Bump Steer Analysis
Ackermann Geometry Assessment
Steering Ratio Analysis
Steering Weight Analysis
Brake Balance Analysis
Derivative Analysis. Optimises yaw response and stability at turn-in.
GSD RaceDyn can also design Multi-Rate Suspension Systems to control ride height through the speed range. This is required for cars with significant underbody generated downforce, e.g. LMP2, ground effect F1, GP2 etc. As well as this GSD RaceDyn can carry out 4/5  or 7 post 'shaker rig' tests. This optimises contact patch load variation but not handling balance or stability - only useful if  Package 'A' completed.
Aerodynamics Analysis
With Package 'A' GSD RaceDyn will provide you with base aerodynamics settings.
However, GSD RaceDyn can help you fully optimise your aerodynamics setup to achieve the most performance from your car, with both physical testing and CFD support.
GSD RaceDyn are able to conduct Aerodynamics Test Days, and aid in Wind Tunnel Testing at MIRA.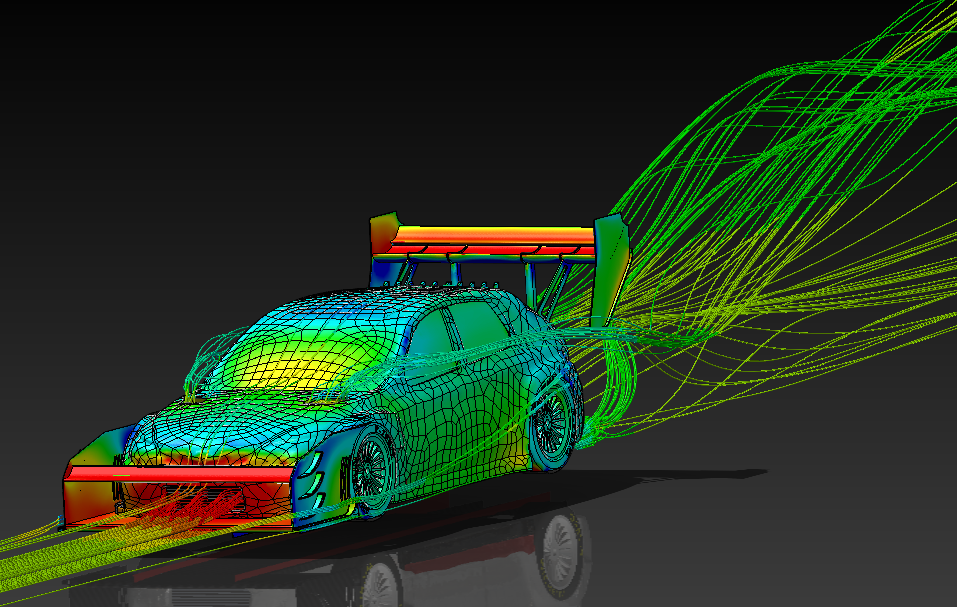 Lap Simulation & Race Strategy
With Package 'A' GSD RaceDyn will simulate a lap of an available circuit of your choice, and provide you with a laptime from the simulation.
GSD RaceDyn also offer Lap Simulation services, such as optimisation of setup, tyre pressures, gear ratios, and fuel loads.
GSD RaceDyn can also offer trackside Race Engineering services, car data analysis, and race strategy analysis.
Soon GSD RaceDyn Laptime Simulation Software will be available for purchase - more information here.